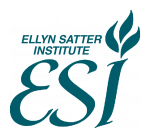 Family Meals Focus
The Ellyn Satter Institute Newsletter
Family Meals Focus
Explore how to eat, how to feed, how to address picky eating, overweight, underweight and special needs. Get tips on coping with interference from well meaning family, doctors, and teachers. Learn how to reconcile what you want to eat with what you are supposed to eat! It is all here in these almost 10 years of Family Meals Focus monthly newsletters.
These are written for the public as well as professionals, with some editions being slanted heavily one way, some another. Some get quoted again and again, others sank with hardly a ripple. The index tells you the range of topics. We will still publish a FMF newsletter from time to time: sign up for it here. But now, look for our new ESI blog, Eat and feed with joy.
To subscribe to news and updates, click here.