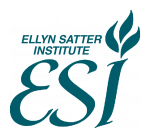 Family Meals Focus
The Ellyn Satter Institute Newsletter
Feeding is parenting
by Ellyn Satter, Registered Dietitian and Family Therapist
The division of responsibility is authoritative parenting with feeding, with parents taking kindly leadership for the what, when, and where of feeding and giving their child warm and supportive autonomy with the how much and whether of eating. Authoritative parenting has long been demonstrated to be superior with respect to raising socially and emotionally healthy children.1,2 First-grade children who are parented authoritatively have a lower incidence of child overweight. Only 4% of children of authoritative parents being overweight, compared to 10% of children of permissive parents, 10% of children of neglectful parents, and 17% of children of authoritarian parents.3 
---
Models of parenting1,2

 

High expectations for self-mastery

Low expectations for self-mastery

High sensitivity

Authoritative: Maintains clear leadership, limits, and boundaries and at the same time respects child's opinions, desires, and capabilities.

Permissive: Only inadvertent leadership and boundaries. Indulgent. No routine discipline.

Low sensitivity

Authoritarian: Arbitrary rules, strict disciplinarian. Little interest in child's opinions, desires, or capabilities.

Neglectful: Uninvolved. Does not provide leadership, support or boundaries.
---
Patterns of parenting1,2
Nutrition and health professionals can have an impact on parenting by teaching effective feeding based on the division of responsibility.
There are four parenting patterns, depending on how you combine the elements of taking leadership and giving autonomy.
Authoritative: Parents provide clear leadership and structure, have consistent standards of expected behavior, maintain predictable, effective discipline, and express their points of view. They also encourage the child's independence and individuality by listening to his point of view. Their children are positive and self-confident high-achievers who do well with others.
Authoritarian: Parents arbitrarily lay down the law, expect unquestioning compliance, and don't talk and listen. They don't discuss rules in advance, let children express their opinions, or let children make decisions about their own lives. Their children are obedient, but not spontaneous, affectionate, curious, or creative. They have trouble expressing their needs and working things out with others and therefore tend to be distrustful and socially withdrawn.
Permissive or indulgent: Parents avoid providing leadership and boundaries and have few rules or expectations beyond the unspoken one that the child will behave well based on love for the parent. They don't directly guide their child's behavior and avoid exerting their authority. They only impose controls or restrictions in an indirect or manipulative fashion, such as praise, extravagant role-modeling, or withholding of attention. They overlook the child's negative behavior until that behavior becomes annoying, then the parent becomes highly critical. Their children tend to be unhappy, are lacking in self-reliance and self control, and don't take responsibility.
Neglectful: Parents are indifferent, remote, and uninvolved. They provide neither rules nor support. Their children are frightened and lonely and have serious cognitive, emotional, behavioral, and often medical problems.
Patterns of parenting with feeding
Parents feed authoritatively when they 1) observe and understand their child and 2) follow the division of responsibility by doing their feeding jobs and letting their child do her eating jobs.4 According to the Satter Feeding Dynamics Model (fdSatter), feeding according to a division of responsibility provides both leadership and autonomy and is authoritative parenting.5 In fdSatter, expectation for self-mastery becomes leadership; sensitivity becomes autonomy.
---
Patterns of feeding

In word or deed, here is what parents say with respect to feeding:

High leadership

Low leadership

High autonomy

Authoritative: "It is time for dinner (snack). Here is what we have to eat. You may eat it or not. You may eat again at snack (meal) time."

Permissive: "What would you like? When would you like it?"

Low autonomy

Authoritarian: "Here is your food. Eat it."

Neglectful: "Don't bother me. Get it yourself."
---
fdSatter is authoritative parenting with feeding
In taking leadership with feeding, the parent shows the child what is expected with respect to self mastery with eating and supports the child is achieving that mastery. That is, the child will gain eating competence.6,7 S/he will retain positive attitudes about eating and about food, learn to behave appropriately at meal and snack time, be able to pick and choose from food that parents make available and eat as much or as little as s/he needs, and learn to eat the food that parents eat. In giving the child autonomy with the how much and whether of eating, the parent is sensitive to and respectful of the child's own drive to learn and grow as well as the child's own preferences and needs. Parents who give a child autonomy remain connected. They let the child be independent and self directing within the context that they provide, and at the same time remain warm and attentive to the child.
Teach parenting through feeding
If you are a nutrition or health professional, don't try to teach parenting. You don't have the training, and you could do more harm than good. You can, however, have an impact on parenting by teaching effective feeding. fdSatter is based on authoritative, evidence-based feeding practice8–11 and provides you with a responsible guide for teaching feeding. On their own, parents often apply principles that they learn within the context of feeding to parenting overall. If you are a mental health professional, learn recommended feeding practice. Then consider entering families via their parenting with feeding. Authoritative feeding is concrete, practical, and achievable. Once mastered, authoritative parenting around feeding provides parents with a pattern for addressing family issues overall.
Explore
---
For more about parenting your young child, school-age child, or adolescent with food, see Your Child's Weight: Helping Without Harming.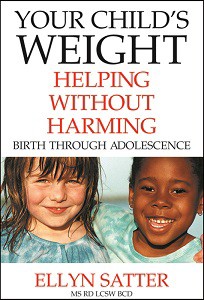 ---
To see what positive feeding looks like as well as to read about it, see Ellyn Satter's Feeding with Love and Good Sense DVD II. For home use version, click here.
---
Related issues of Family Meals Focus
---
More about feeding