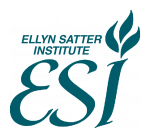 Family Meals Focus
The Ellyn Satter Institute Newsletter
Dieting and mental health
by Ellyn Satter, Family Therapist and Registered Dietitian
Mental health practitioners working with adolescents' social and emotional issues often put them on special diets to lose weight or address medical conditions. What professionals don't realize is that food deprivation is the antithesis of nurturing. Moreover, calorie deficits are emotionally destabilizing.  
Vulnerable children are not helped by food restriction
Natalie Harries's letter forms the basis for this month's newsletter: I am a dietitian working in an inpatient facility for preadolescents and adolescents with Attention-Deficit Hyperactivity Disorder (ADHD), Obsessive-compulsive disorder (OCD), anxiety, depression, and the like. I was asked to address weight and abnormal blood lipids, presumably with some sort of a modified diet. My problem is that it seems counterproductive to talk with a child/adolescent who is struggling to this extent about eating less to lose weight or control lipids.
I agree with you that these vulnerable adolescents are not served by food restriction and interference with their autonomy with eating. They need nurturing, not deprivation. To address adolescents' emotional issues, facility staff can't be police officers with their eating. Moreover, calorie deficit is counterproductive to mental health care because it is emotionally destabilizing. We have known that since the Keyes starvation experiments in the 1940s.1 Why deliberately destabilize a child who is struggling to get better emotionally?
Help adolescents become eating competent
Vulnerable adolescents are not served by food restriction. They need nurturing, not deprivation.
Instead of thinking "modified diet," why not help adolescents become eating competent? Adolescents receive inpatient care to help them become emotionally and socially more competent. You can help them become more competent with eating. Give them regular meals and snacks, and let them eat what they want and as much as they want from what is offered at those structured eating times. Do the same at snack time, and regularly include "forbidden food" to neutralize its attraction and potential for precipitating out-of-control eating. Have staff who care about them eat with them and focus attention on enjoyable topics. This gives adolescents the opportunity to enjoy eating and enjoy "family" meals. That enjoyment and those meals provide a framework for their developing positive attitudes about eating, becoming comfortable with unfamiliar food, and enhancing their ability to eat as much as they need based on their internal regulators. 
Can they take care of themselves with food? 
For discharge planning, encourage adolescents to review what they have learned about taking care of themselves with food. Then help parents establish family meals and follow a division of responsibility in feeding. Teaching parents to do an excellent job with feeding provides them with a concrete model of establishing authoritative parenting, which can be tremendously helpful for all children, but particularly for children who suffer from ADHD, OCD, anxiety, depression, and the like. You can add eating disorders to the list, as well. Children do best when their parents function well, parent well, and feed well.
Eating competence achieves health betterment and nutritional improvement
This is not to say that in setting aside "dieting" you are throwing away the goal of health betterment and nutritional improvement. Studies show that adults who are eating competent have better nutritional profiles, lower BMIs, and better blood lipids. They even eat more fruits and vegetables.3,4 They are also emotionally and socially healthier. To find out if the same is true for the adolescents in your treatment center, set your eating competence intervention up as a research trial with ecSI-2.0. weights, blood pressures, and lab tests before and after. (Make application for Human Subjects Review approval so you can publish your data.) Expect that blood pressures and lipids will improve with feeding structure. Then let yourself learn. We all learn from our patients.
References
1. Keys A, Brozek J, Henschel A, Mickelsen O, Taylor H. The Biology of Human Starvation. Minneapolis: University of Minnesota Press; 1950.
2. Satter EM. Part 1: How to Eat. Secrets of Feeding a Healthy Family: How to Eat, How to Raise Good Eaters and How to Cook Madison, WI: Kelcy Press; 2008.
3. Psota T, Lohse B, West S. Associations between eating competence and cardiovascular disease biomarkers. J Nutr Educ Behav. 2007;39 (suppl):S171-S178.
4. Lohse B, Psota T, Estruch R, et al. Eating competence of elderly Spanish adults is associated with a healthy diet and a favorable cardiovascular disease risk profile. J Nutr. Jul 2010;140(7):1322-1327.
Explore
---
To help adolescents feel better about food, take an interest in unfamiliar food, and eat the amount they need, read Part 1, "How to eat," in Ellyn Satter's Secrets of Feeding a Healthy Family.
For the best chapter yet on feeding the adolescent, read Ellyn Satter's Your Child's Weight: Helping Without Harming.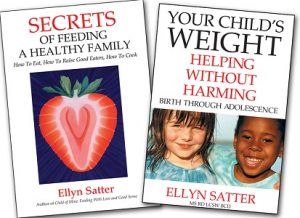 ---
Watch Ellyn Satter teach eating competence in the Satter Eating Competence Model Series on CD.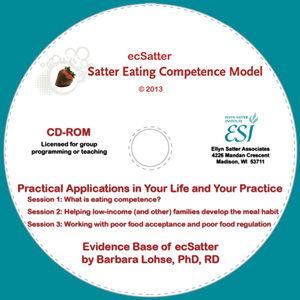 ---
More about feeding adolescents
---
Related issues of Family Meals Focus