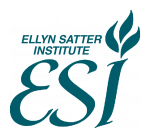 Family Meals Focus
The Ellyn Satter Institute Newsletter
Helping without harming with child overweight
by Ellyn Satter, MS,MSSW, Dietitian and Family Therapist
To prevent child overweight and obesity, follow the Satter Division of Responsibility in Feeding from birth and throughout the growing up years. To address child overweight, restore the Satter Division of Responsibility in Feeding and in activity and let your child recover his competence with eating and growth. In short, attend to the how, not the what of feeding. Don't let the studies that say children are getting fatter1 make you push low calorie food, restrict portion sizes, and stress about vegetables. Such strategies make children fatter, not thinner.2,3  Instead, have pleasant and reliable family meals with food you enjoy. Then trust your child to determine what and how much to eat from what you provide.
Emphasize providing, not depriving
The first order of nutritional business for children is getting enough to eat so they can grow and develop. When children, either at home or at school, aren't sure of getting enough to eat at dependable times they are preoccupied with food and overeat when they can. In all the frenzy around stripping schools of calories, we mustn't forget that children depend on nourishing, enjoyable and well-timed school meals that fill them up. 
Emphasize structure
 Food restriction makes children fatter. The alternative: Follow the Satter Division of Responsibility in Feeding.
The structure of meals and sit-down snacks reassures children of all ages that adults will look out for them. Current eating patterns harm more through loss of structure and support than through poor food selection. A deliberate sit-down family meal at a fast food franchise is great. Off-handedly whipping through the drive-through and tossing a bag in the back seat is not. Having an open kitchen and grazing for food throughout the day spoils meals and undermines the body's ability to regulate food intake. It's simply good parenting to structure food availability so children save their appetites for meals and snacks. Letting them eat on the run makes them eat less well and make errors in how much they eat, even if the food is nutritious.
Avoid food restriction in all its forms
Food restriction makes children fatter, not thinner.2,3 Current "indirect" approaches to child overweight represent food restriction: Encouraging increased intake of low-caloric-density foods (fruits and vegetables, whole grains), decreased intake of high-calorie foods (high-fat, high sugar) and restriction of portion size. The alternative: Follow the Satter Division of Responsibility in Feeding. Offer a variety of food at structured times and let children serve themselves.
Encourage judicious use of high-sugar, high-fat food
Children who are forbidden to have sweets and high-fat snacks eat more of them and are fatter than children given regular access.4 Good parenting with treats gives regular access by including snack-type food at regular, sit-down meals and snacks, but doesn't let children graze, on those or any other food or drinks. Children given regular access at home become matter-of-fact about sweets and fatty snacks so they don't go off the deep end when they get access to them.
References
1. Ogden CL, Carroll MD, Curtin LR, McDowell MA, Tabak CJ, Flegal KM. Prevalence of Overweight and Obesity in the United States, 1999-2004. JAMA. 2006;295:1549-1555.
2. Faith MS, Berkowitz RI, Stallings VA, Kerns J, Storey M, Stunkard AJ. Parental Feeding Attitudes and Styles and Child Body Mass Index: Prospective Analysis of a Gene-Environment Interaction. Pediatrics. 2004;114:e429-436.
3. Faith MS, Scanlon KS, Birch LL, Francis LA, Sherry B. Parent-Child Feeding Strategies and Their Relationships to Child Eating and Weight Status. Obes Res. 2004;12:1711-1722.
4. Fisher JO, Birch LL. Eating in the absence of hunger and overweight in girls from 5 to 7 y of age . American Journal of Clinical Nutrition. 2002;76:226-231.
For help with raising your big child or your small child to feel good about himself and have the body that is right for him, read Ellyn Satter's Your Child's Weight: Helping Without Harming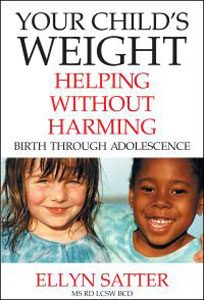 ---
Address child weight wisely and well