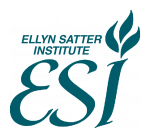 Family Meals Focus
The Ellyn Satter Institute Newsletter
Eating competence in action: Season's eatings
by Peggy Crum, MA, RD, and ESI faculty member
Does your holiday season bring constant and often losing battles with food temptation? If you get caught in this struggle, you are likely to feel bad if you give in and eat and feel bad if you miss out on luscious food! It need not be so. Learn to trust that you will get enough of even delicious food. . .  
Holidays let us celebrate good food
The holidays bring visions of tables full of food: Tasty and delicious warm and savory, bountiful and rich, sweet and so appealing! Cooks and chefs pull out all the stops to make the most wonderfully scrumptious food. With all of these warm-fuzzy adjectives, why is anyone worried or concerned about holiday eating? But wait! Are you afraid you will eat more when food is plentiful and delicious? Learn to trust and work with your hunger and appetite rather than fighting against them.   
Trusting your internal regulators will save the day
Begin by giving yourself permission to eat any and all foods. Permission to eat, strangely enough, gives you permission to stop.
Try your best to be hungry when you start the meal. This is hard to do when you spend extra time in the kitchen "taste-testing" and when there are lots of foods sitting around. If it is possible to avoid eating until it is mealtime, do it. When you begin eating hungry, it is easier to tell when you are satisfied.
Pay attention to your appetite. It will tell you clearly which foods you want to eat and which you don't. To feel satisfied, you need to eat foods you enjoy.
Structure helps. This is without a doubt where the holiday style of eating derails many folks. Try to maintain your usual predictable schedule of meals and snacks. 
Set things up so you can pay attention to your delicious food. Easily-grabbed food squanders your eating because you won't be paying attention. 
Reassure yourself that there is plenty to eat. There is no need to eat more than you want now because there will be more tasty food when it's time to eat again.
Don't dump on yourself for eating more than usual. If you let it be, your body will regulate naturally by using more energy and by requiring less food on subsequent days.
Have delicious food all year long
Becoming a competent eater will let you have delicious food, without overeating, all year long. Foods that are no longer forbidden become ordinary foods that can be consumed in ordinary ways. Large portion sizes become less appealing in the context of regular and reliable meals and snacks featuring adequate amounts of rewarding food. "Healthy" foods become enjoyable rather than dreary foods that must be eaten.  
Explore
---
Ellyn Satter tells you how you can be relaxed and positive about your eating – on holidays and at other times – in Secrets of Feeding a Healthy Family.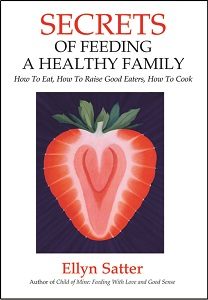 ---
Related issues of Family Meals Focus
---
More about eating
---

Find out what others have to say about being eating competent.