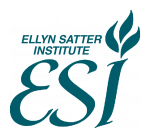 Family Meals Focus
The Ellyn Satter Institute Newsletter
Stop being hysterical about "obesity"
by Ellyn Satter, Registered Dietitian and Family Therapist
Chasing weight loss does more harm than good. Instead, devote yourself to weight-neutral wellness: Become eating competent, move in enjoyable ways, and respect your body.
Overweight definitions are spurious
Examination of recent obesity data makes it clear that it is time to stop chasing weight loss! This is not to say that we should or will let ourselves go. Instead, we can address the issue in a way that it can be solved. We can responsibly devote ourselves to weight-neutral approaches to good health (Health at Every Size, if you will): Eating well (in my definition, that would be the Satter Eating Competence Model), moving in ways that we enjoy and are therefore sustainable, and developing respect for bodies.
The incidence of overweight in adults and children has leveled off, probably not because obesity interventions work – they don't. Although hope springs eternal in the folks who throw millions annually at fruitless weight-loss efforts, in our saner moments we know there is no cure. The leveling-off is more likely because we have achieved some sort of equilibrium with recent years' changes in family meal patterns and the marketplace, with the dietary confusion and disorder from the extreme food selection rules that got a toe-hold in the 1980s, and, yes, with attempts at weight loss. These attempts show a pattern of beginning each weight loss effort weighing more than at the start of the previous one.1
Health policy contributes to weight-loss pressure by calling us obese when we are above average weight and telling us that our weight is killing us when it is doing nothing of the sort. The American Medical Association officially designates obesity as a disease. In reality, the cure is worse than the disease: Lifelong misery about eating and weight, repeated, medically damaging, and costly failed weight-loss attempts, shame, and self-loathing.2
Adult and child obesity incidence has leveled off
 

Not pursuing weight loss doesn't mean we will let ourselves go. Instead, we will address weight issues in the way they can be solved.
Based on 2013-2014 National Health and Nutrition Examination Survey (NHANES) data, the 2013-2014 incidence of child and adult obesity remains unchanged since 2011-2012:
Obese? Or just above normal?
Generally, biological data are designated as crossing the line from normal to abnormal at 2 or even 3 standard deviations (SD) away from the mean. Body weight is different. Policy-makers set the line from normal to abnormal for body weight for children at less than 2 SD above the mean, and for adults at the mean!3 No wonder so many of us are "overweight!" Rather than being a disease, as defined by the American Medical Association, high BMI defined by the policy-makers appears to be a variant of normal. This is particularly true for adults, where the diagnostic cutoffs are at the mean. Not only that, but whether or not we consider obesity cutoffs to be reasonable, compared with children, adults are defined as being obese at lower percentiles. That means a person can leave childhood at "normal" weight and enter adulthood obese!
Child overweight: BMI plots at the 85th percentile or above, which is 1 standard deviation (SD) above the mean.
Child obesity: BMI plots at the 95th percentile or above, 1.8 SD above the mean.
Adult overweight: BMI 24.9-30.0.3 This plots just above the 50th percentile, far less than 1 SD above the mean.3
"Normal" weight is BMI 18 to 24.9 – at the 50th percentile and below.  
Adult class 3 obesity: BMI 40.3 This plots at ~ the 99th percentile, about 2 SD above the mean.
Is overweight making us sick? Probably not. 
The folks calling the shots in today's health care and policy-making world insist that obesity makes us sick and it is driving up health care costs. The loyal opposition (that would be me and other moderates) say it isn't so simple. The "cure," weight reduction dieting and yo-yo weight patterns, are worse than the disease. The shot-callers and the moderates could argue about this for hours – days – with each camp pulling out reams of studies (and opinions) that support our opposite points of view. Obesity correlates to a moderate extent with metabolic syndrome: elevated blood pressure, triglycerides, fasting plasma glucose, insulin resistance, and C-reactive protein and low high-density lipoprotein cholesterol. However, careful studies show that weight loss does not improve those values, and weight loss and regain makes them even worse. Which came first: the metabolic syndrome or the obesity? Does obesity cause metabolic syndrome or vice-versa? Does low weight protect against metabolic syndrome? Maybe, but "normal-weight" people have metabolic syndrome. We know that obesity is a genetic condition – is metabolic syndrome part of the genetically determined mechanism that predisposes to obesity? Whether obesity or metabolic syndrome came first, the correlations at not that high:
Even at "normal" weight, one-third of women and one-fifth of men have metabolic syndrome compared with 50% of "overweight" (BMI 25.0-29.9) men and 43% of "overweight" women.5
Two-thirds of "obese" (BMI 30-35) subjects scored within normal ranges for metabolic syndrome, with the other third showing modestly elevated values.6
Obesity doesn't kill us
Seek health in other ways besides weight loss
You can take good care of yourself – sustainably – without tormenting yourself about weight loss. People who are eating competent are healthier in ways that folks cannot achieve and maintain on weight loss regimens: They have better diets, better medical and lab tests, are more active, sleep better, feel better about themselves, and do better socially and emotionally.9 In the same manner, physical fitness does more for your health than getting thin: it is better to be fit and fat than "normal" weight and unfit.10 Weight-neutral interventions such as becoming eating competent11 improve health indicators including self-esteem and body image.12
Explore
---
More about weight-neutral wellness
Address weight issues in the way they can be solved: eat well, move in sustainable ways, and develop respect for our bodies. Read Ellyn Satter's Secrets of Feeding a Healthy Family and Your Child's Weight: Helping Without Harming.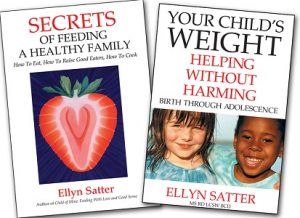 ---
Address weight wisely and well
---
Related issues of Family Meals Focus
---
Stay in touch!
Want a PDF of this article? Subscribe!
Say thanks for this great information by making a donation to ESI!