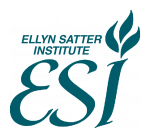 Family Meals Focus
The Ellyn Satter Institute Newsletter
Labeling overweight children as obese
by Ellyn Satter, Registered Dietitian and Family Therapist
Don't let your child be labeled overweight or obese. Childhood overweight/obese designations have become even more harmful than before: Over 85th percentile is "overweight." Over 95th percentile is "obese." Parents often refuse to accept these labels for their children. From the Satter Feeding Dynamics Model (fdSatter) perspective, their reluctance is well-founded, as many large children's size is simply normal. However, if a child's weight shows abnormal acceleration at any percentile level, there is a potential problem that needs to be addressed. 
BMI cutoffs are misused
This slippage grew out of a January, 2007 Committee Statement and recommendation1 and was made official by a National Health Statistics report.2 To its credit, NHS authors temporize about the legitimacy of such designations. Less than half of "obese" children (those with BMI ≥ 95) have a high percentage of body fat. Moreover, the consensus in the literature is that it is difficult to come up with any definition of child overweight or obesity.2 The problem arises from the manner in which those terms – and definitions – are used. However the BMI levels are labeled, they are statistical cutoff points established for the purpose of population-wide evaluation. As such, they are not appropriate for diagnosis of individual children. Despite the shortcomings of the definition, that is exactly the way they are used. Little wonder that parents are unwilling to accept and act on a weight-related diagnosis for their child.3
The real problem is weight acceleration 
Labeling children overweight or obese makes them feel flawed: not smart, not physically capable, and not good about themselves.
To remind you, fdSatter says that the issue with weight not high weight per se, but weight acceleration: Abnormal upward weight divergence for the individual child. Such divergence gives a clue to distortions in feeding. Those distortions can be corrected by instituting a division of responsibility and feeding optimally throughout the child's growing-up years.4 The whole issue of whether or not the child is overweight can responsibly be side-stepped – it really isn't important. What is important is helping parents do a good job with feeding and letting the child grow up to be the weight that is right for him or her.
Labels harm children and parents