Coaching in feeding and eating
For the public
Coaching in feeding and eating
Are you stuck with feeding your child? Are you stuck with feeding yourself? Have you done all your reading and still have lots of questions?  Have you tried many times before to address feeding/eating/weight problems, only to have your efforts fizzle out? Are you afraid that it can't possibly work – that finding joy in feeding in eating is too good to be true?
The eating competence and feeding dynamics models seem straightforward, but in the context of our food-crazy society, they are not. The controlling, scolding, shaming messages creep in, and undermine your efforts to be relaxed and self-trusting with food. Feeding and eating problems, such as picky eating, over- or underweight, medical issues, or children's special needs have a long history that complicate change.
Our preference for you is that you have in-person help from a local professional who has been mentored and credentialed by ESI. But professionals who understand and properly apply the division of responsibility in feeding are currently a select group, so you we offer coaching services via Skype.  Through questionnaires, videos, and discussion, we can help you understand that history and find new and effective ways of feeding and eating.   
We begin by listening
By now, you have had lots of people giving you lots of advice about what to do with feeding yourself and/or your child. We have found that giving more advice is simply not helpful. Instead, we need to understand where you are coming from and what you have been through with eating and feeding.
For your eating challenges, we start by doing a thorough review of your eating and weight history as well as examining your eating attitudes and behavior.
For your feeding concerns, we go back to the beginning, if we can, and see if we can pin down when the problem with your child began. To do a good job with feeding, you need to follow the division of responsibility: you do the what, when, and where of feeding, and trust your child to do the how much and whether of eating. Through no fault of yours or anybody else, somewhere along the way, you lost trust in your child to do his or her part with eating. We need to know what happened so we can restore your trust and allow you to have a positive, relaxed, feeding relationship. 
---
What coaching costs
The initial eating/feeding/growth review takes 5 to 10 hours, so while the cost seems steep, we deeply discount it to encourage you to take this important step. Followup coaching assists you in accomplishing, step-by-step, the goals of the eating and/or feeding plan that evolved from your initial review. Fees are payable in full at the beginning of the session. You pay via PayPal directly to your ESI coach.
Assessment, adult: $350. 
Assessment, child: $550. 
Followup coaching: $150.00 per 50-minute session. Several-session, discounted packages are available.  
---
How to prepare  
Study up
To make the best use of your time and money, do your homework before you contact us.  Be sure you are comfortable with the approach to eating and feeding that Ellyn Satter recommends by reading one or more of her books. Each one can teach you about yourself as well as about your child. 
Child of Mine addresses feeding in detail, birth through preschool.
Your Child's Weight addresses younger children more briefly and goes into detail for school-age children and adolescents. Although Your Child's Weight concentrates on weight issues, the information is generally applicable.
Secrets of Feeding a Healthy Family addresses adult eating competence as well as raising children to be good eaters.  
Try it on your own first 
Whether you are a parent or professional, to prepare yourself for a consultation, apply the recommendations the best you can on your own. Pay attention to where you get stuck. That will help you identify where you need help from an ESI Coach. That is the point where you can contact us. 
Ready to get started with coaching?
Explore
---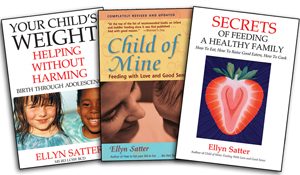 Start by reading Ellyn Satter's books! 
---
Are you stuck with feeding your child? 
You are making no progress toward having pleasant, harmonious meal- and snack-times. 
Your child's growth veers upward or downward abruptly.
You worry a lot about your child's eating or growth.
You and your child have prolonged or continuous struggles about his eating.
You have been offered a patchwork approach to feeding, with first one then another piece of advice, often contradictory.
---
Are you stuck with feeding yourself?
You worry about eating almost continuously – doing it, avoiding it. 
You feel you know what to do with respect to eating, but can't do it.
You feel bad if you eat and bad if you don't.
You can't remember when you have felt good about your eating or weight.
---
Praise from coaching clients
It's been hugely helpful for me to work with you and I so appreciate your support.  …working with someone with the experience and focus to offer advice and make specific suggestions has been invaluable.  You're the voice of Sanity With Food in my head!
It was extremely hard for the first two weeks… Over the course of just 15 days things shifted immensely! And now after one month, meal time isn't a battle.
Lexie is a much happier person since the food battles have ended.  She is doing awesome in school she has been on the A honor roll all year and has not missed a day of school yet.  I could go on and on I'm just so happy and so proud of her.  Thanks for your help!