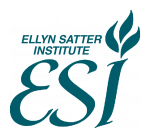 Family Meals Focus
The Ellyn Satter Institute Newsletter
Feeding your adolescent
by Ellyn Satter, Registered Dietitian and Family Therapist
Despite his acting like it doesn't matter in the least, your adolescent depends on you to maintain the structure of family meals. He will participate in family meals when you make meals a priority, keep mealtimes pleasant, and use mealtimes for connecting. To participate in family meals, adolescents have to learn to manage their schedules by setting aside time for meals and their hunger by managing their snacking. 
Every parent fears making a mess of things with raising their children. What advice do our correspondents have for doing things right?
Understand that the bottom line with the division of responsibility in feeding is structure. For help with structure, see Mastering Family Meals Step by Step.
After that, the critical issue is autonomy. Within the context of structure, parents absolutely and positively have to trust children to do their own eating and growing. Out of this trust grows resisting pressure to put children on diets-as well as helping children resist their own pressures. For help with addressing weight pressure, see Your Child's Weight1
Working things out with an adolescent
From a dietitian mother comes a story about how she helped her 13 year old daughter learn to take responsibility for eating breakfast.
Girl: "Mom, [sounding irritable] I don't want you to cook my breakfast any more…I can do it myself."
Mom: "But, I like making your breakfast"
Girl: "I want to be alone in the morning…when you are in the kitchen, you always talk."
Mom: "OK, if you make yourself a good breakfast that has protein, then I'll let you take responsibility for it."
The adolescent forgot her part of the deal
A week or so later, the daughter is ready to run out the door; there hasn't been any noise in the kitchen.
Mom: "Stop-you didn't eat any breakfast!"
Girl: "I can't, I'm late for the bus."
Mom: "I'll drive you after you have eaten. That's the deal-either you cook for yourself, or I will."
The adolescent learned to take responsibility for eating breakfast 
Says the mom: "She continued to make her own breakfast for the remaining 2 years of middle school, and then she asked me to cook again. She never misses breakfast. A few months ago, she came home and said her friend, K, had no energy during their tennis match…'K. didn't eat breakfast…I told her she has to eat in the morning if she wants to be my doubles partner!'"
Keep responses simple; avoid long explanations
This applies to all age groups, but particularly to adolescents. They tend to exploit explanations and avoid taking direction by asking for more and more elaboration. The mother skillfully – even brilliantly – stayed on her side of the division of responsibility. She laid out the limit and gave her daughter a choice. A lesser parent would have tried to get the girl to eat. Even better, the daughter used the same technique with her tennis partner! 
Addressing the "All my friends . . . " opener
All my friends "have white bread . . . go out for fast food a lot . . . eat ethnic food. Why can't we?" When children are younger, the answer is easy: "I am not comfortable buying those foods [I can't afford them], but if you want to eat them with your friends, you can." The Eating Competent, adolescent, however, has mastered food acceptance and eats a variety of food. His task is to learn to manage being a part both of the family and of the outside world. Parents need to both hold the line with respect to their own integrity and appreciate and endorse the richness and exposure to the outside world that is offered by their child. From a family dynamics perspective, the healthiest families are those in which grownup children can freely come and go. Part of the outside world is eating the food there. With that in mind, the answers are more likely to be, "I could buy white bread once in a while. Which one should I get?" "We could go out for fast food sometimes. Where would you like to go?" "Why don't we try cooking some of those foods?"
Be eating competent yourself
---
Parents raise competent eaters if they are competent eaters. For more about competent eating, read the "How to Eat" section in Secets of Feeding a Healthy Family.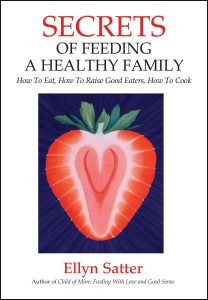 ---
Ellyn Satter tells and shows you about eating competence in the Satter Eating Competence Model webcast.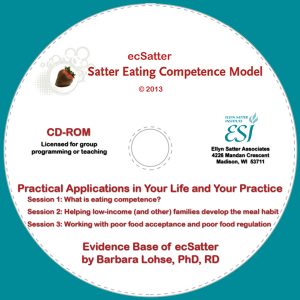 ---
Related issues of Family Meals Focus