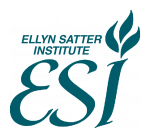 Family Meals Focus
The Ellyn Satter Institute Newsletter
What does eating competence research say about eating disorders?
by Ellyn Satter, Registered Dietitian and Family Therapist
To the extent that we urge, persuade, and guilt-trip ourselves and others to eat certain amounts and types of food, and force our bodies to turn out a certain way, we all contribute to distortion, conflict, and anxiety with respect to eating. This is not to say that we cause eating disorders. Distorted eating attitudes and behaviors are symptoms for underlying psychosocial distortion, with each exacerbating the other. As Hilde Bruch observed,1 an eating disorder is "the misuse of eating in an attempt to solve or camouflage problems of daily living that to them seem otherwise insoluble."
Eating disorder attitudes and behavior are the antithesis of eating competence
Does a person with an eating disorder celebrate eating? Hardly. To feel good about eating means it could go out of control!
Does she enjoy food and trust her appetite? Not at all! Since she is trying not to eat, she experiences appetite as unbearably compelling and never satisfied.
Does she eat enjoyable food? No, such food is particularly hazardous because it can undermine rigid control.
Does she eat as much as she wants? Horrors! The goal of the person with anorexia or bulimia is to not eat very much.
Does she feed herself regularly and reliably? Not likely! She experiences eating as being so negative that she would forget about it if she could.
Is there a secondary benefit to all this misery? By all means! Eating becomes so engrossing that it distracts from the underlying life misery that she regards, likely unconsciously, as being even worse.   
Research highlights contrasts between ecSatter and eating disorders
The research validating the original Satter Eating Competence Inventory, ecSI, shows the same inverse relationship between ecSatter and eating disorders. There were two validation studies for the Satter Eating Competence Inventory2,3 and a cognitive interview study.4 These studies established that ecSI and ecSI/Low-income (its minor revision) work, then narrowed usage to a single test, ecSI 2.0.5 For each of the two construct validation studies,3,6 two validated tests were used to consider whether the ecSI tested what it claimed to test: Stunkard's Three Factor Eating Questionnaire (TFEQ)7 and Garner's Eating Disorders Inventory (EDI).8,9
High eating competence subjects scored low on TFEQ
TFEQ examines eating from the perspective of controlling and overruling internal regulation: maintaining restrained eating, avoiding disinhibition of restraint, and tolerating hunger. The higher the score, the higher the individual's "success" at maintaining external control. EC subjects score lower on restraint, disinhibition, and hunger toleration than non-EC subjects.2 ,3 Since TFEQ tests for the ability to control and overrule internal regulation, it isn't surprising that EC subjects, who trust their internal regulators of hunger, appetite and satiety, score low on TFEQ. These EC scores remain low even though some TFEQ adherence items contradict EC. That is, TFEQ equates structured eating with restrained eating. TFEQ would favor a positive answer and ecSI a negative answer to TFEQ's "I eat anything I want, any time I want." TFEQ also classifies appetite-responsive eating characteristic of EC as disinhibition, such as "Sometimes things just taste so good that I keep on eating even when I am no longer hungry," and "When I smell a sizzling steak or see a juicy piece of meat, I find it very difficult to keep from eating, even if I have just finished a meal." 
High eating competence subjects scored low on EDI
EDI-2 and EDI-3 8,9 are two-prong eating disorder inventories measuring eating and body image attitudes and behaviors as well as underlying psychosocial distortion. The higher subjects score on ecSI,2,3 the lower they score on EDI-defined indicators of both eating/weight distortion and psychosocial limitations associated with eating disorders. Subjects who score lower on ecSI score significantly higher on EDI-28 subscales measuring eating disorder symptoms and psychosocial indicators.2 Subjects who score in the lowest ecSI-2.0 tertiles also score within typical EDI-39 clinical ranges for these indicators:
Bulimia
Body dissatisfaction
Low self-esteem
Personal alienation (emotional emptiness and aloneness)
Interpersonal insecurity (difficulties expressing thoughts and feelings)
Interpersonal alienation (lack of trust in relationships)
Maturity fears (desire to retreat to childhood)
The eating competence interview study10
As the pie charts on the right illustrate, there are striking attitudinal differences between low-income women who score high and those who score low on ecSI. Women who score low tend to report eating-disorder typical eating attitudes and behaviors:
Negative thoughts and feelings
Making weight management primary
Emphasizing restricting and avoiding
Disorganized, inattentive eating
Distress about failure to adhere to food management rules
Hypothesis: ecSI 2.0 helps detect eating disorders
ecSI 2.0 shows the ability to capture emotions and personality traits in the process of assessing eating attitudes and behaviors: 
A person who scores very low on ecSI 2.0 may exhibit eating and psychosocial attitudes and behaviors associated with eating disorders.
Identifying ecSI 2.0 cutoffs that warrant exploration of eating disorder diagnosis requires further study.
Until the scoring norms are established by further research, clinician can accumulate their own clinical body of knowledge about typical ecSI 2.0 scores observed in people with eating disorders.
As with any other paper or pencil test, it is necessary to cautiously interpret any ecSI 2.0 scoring indicators of an eating disorder. Only clinical examination can determine whether the person truly has an eating disorder.
Administration of ecSI 2.0 before, during, and after intervention can be used to support evidence-based clinical practice. ecSI 2.0 has been demonstrated to have test/retest reliability.6