Workshop for professionals
Feeding with Love and Good Sense VISION Workshop
Assessing and treating childhood feeding problems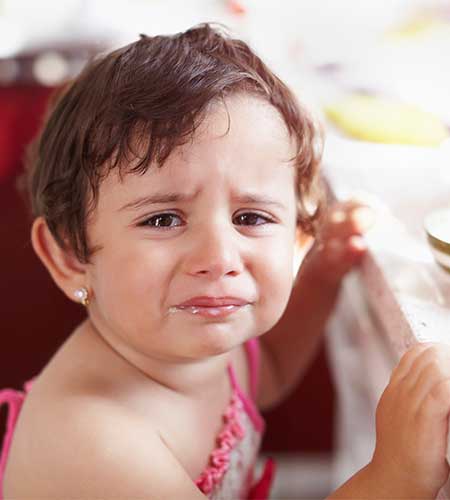 Ellyn Satter's 
led by Eve Reed, APD, and Kerry Regnier, MPH, RDN, LDN
Offered VIRTUALLY
March 22, 2021
September 20, 2021
Register early to save your place!
About VISION workshops
ESI VISION Workshops offer intensive, in-depth training for professionals in assessing and treating established feeding and eating problems. The training emphasizes understanding and applying the Satter Eating Competence Model and the Satter Feeding Dynamics Model. Evidence-based and extensively tested clinically, these workshops offer practical, powerful, and compassionate solutions for complex eating and feeding problems.
About Feeding with Love and Good Sense
Ellyn Satter's division of responsibility (sDOR) is the gold standard of feeding. This in-depth workshop shows professionals how to accurately apply sDOR in doing assessment and treatment with established feeding problems, birth through preschool, including picky eating, overweight, underweight, and special needs. Over 700 dietitians, nurses, doctors, OTs, SLPs, and mental health professionals have been empowered by this workshop to support optimum feeding and address interference and/or neglect with feeding.
Learn how to help families with established feeding challenges
An estimated 50% of children have established feeding problems. Current norms around feeding and eating are such that most children are raised to have poor eating attitudes and behaviors. Most parents have trouble taking appropriate leadership with feeding, and, at the same time, they interfere with the child's autonomy with eating. Parents' interference and/or neglect with feeding precipitates feeding problems that, at each stage of development, become more and more complicated, established, and resistant to resolution. Thorough assessment and skillful, step-by-step application of sDOR has profound implications for the child's nutrition and growth and also for the quality of life and emotional well-being of the child, parent, and family.
Objectives
Upon successful completion of this course, you will be able to:
Cite literature addressing the theoretical underpinnings and evidence for the Satter feeding dynamics and eating competence models.
Consider how to apply child development and nutritional principles to children's achieving eating competence.
Apply the principles of psychosocial and oral-motor development, feeding dynamics, parenting, and growth to supporting optimum stage-related feeding and solving feeding problems.
Differentiate among providing education and doing treatment in addressing child feeding problems, as well as know how to avoid straying into doing psychotherapy.
Enact secondary intervention (detailed assessment and treatment) by addressing growth faltering, weight acceleration, poor food acceptance, and special needs.
Make fdSatter- and ecSatter-consistent treatment plans, and learn to enact those plans in clinical sessions.
Will you benefit from attending?
Are you an experienced health or mental health professional who works with established and entrenched childhood feeding problems?
Are you looking for training in clinical intervention with feeding that doesn't require your going back to graduate school?
Are you familiar with the Satter Eating Competence Model and the Satter Feeding Dynamics Model?
Are you willing and able to do self-study to prepare for this workshop?
Do you work with parent education, anticipatory guidance, and routine problem-solving (e.g. WIC, CACFP, well-child clinic, Parents as Teachers, University Extension), and want the in-depth information, realizing the workshop information about assessment and treatment doesn't apply to your practice setting. 
Logistics
Workshop coming to you on a Virtual platform; March 22 thru May 22, 2021
Teaching modes: Lecture, case study, video, problem-solving, role-playing, discussion.
Live weekly Q&A/discussions:  Thursdays 5:00-6:00 pm CT – starting March 25, 2021.
Contact hours: 40 hours of continuing education. Certificates of completion awarded.

Fee for workshop: 

Registration: $1,175 for individuals; $1,075 for 2 or more participants; $975 for 4 + participants from a single agency.

Registration includes a downloadable training manual valued at $289.

Cancellation: $200 if request is received by December 31, 2020; $500 cancellation fee after December 31.
Workshop Cancellation:  ESI reserves the right to cancel the workshop up to 2 weeks prior to the event.  Full registration will be refunded by same method of payment.

For more information, contact 

[email protected]
This comprehensive course was incredibly helpful clarifying sDOR from a provider's perspective. I highly recommend it!
Registered Dietitian
I will definitely use what I learned in this course in my job as a Part C Early Intervention Occupational Therapist/Primary Service Provider. I frequently work with children and families who are struggling at mealtimes. I will implement sDOR, as I have throughout much of my career. I now will incorporate information from this workshop about about plotting history on growth charts, considering z scores when child's growth has moved off the growth chart, and considering where my families are in the Hierarchy of Food needs and how that might be impacting mealtimes.
Occupational Therapist
Having one week to study each module was a perfect amount of time to absorb the material.  Homework and the live online weekly calls gave us the necessary focus and the opportunity to
ask questions and interact with each other. Plus, Ellyn Satter's interaction with us in the online forum as well as her video vignettes were a perfect and indispensable addition to the entire
experience.
Nutritionist
Great course, I found it very useful and informative. Lots of great resources also.
Occupational Therapist
I think this workshop is a great introduction for any medical provider who is seeking guidance when interacting with parents of "picky eaters." It helped open my eyes to a completely new perspective of feeding a child and helped me respect the autonomy of a child. Children know how to grow! ​Great course, I found it very useful and informative. Lots of great resources also.
Registered Dietitian
I have read Ellyn Satter's book and I thought I knew about fdSatter/sDOR, but this workshop really made all the pieces fall into place, and I understand the model even better now and most importantly how to transfer my knowledge to practice.
Dietitian